January 10 – April 11, 1998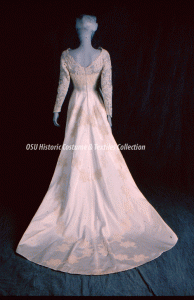 All around the world, we can find people celebrating the passages from one stage of life to the next with some type of formal ceremony. These ceremonies, such as births, weddings, and funerals, usually incorporate special foods, rituals, and clothing specific to the occasion celebrated.
"Wedding Traditions" is an exhibition that explores the specific types of garments worn in marriage ceremonies, including an historical examination of the traditional white wedding dress worn in American and European weddings, as well as an overview of the garments and surrounding traditions of several cultures represented in the Historic Costume & Textiles Collection.