Friends of the Collection
Charles Kleibacker: The OSU Years
October 28, 2010 – May 21, 2011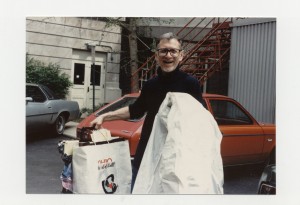 The Friends of the Collection is an organization of exceptional volunteers that was formally established in 1987 by then Designer-in-Residence Charles Kleibacker and members of the Columbus community having an interest in clothing and fashion. The purpose of the Friends is to support the mission of the Collection and promote the understanding, appreciation, and awareness of historic costume and textiles.
In support of the Collection, the Friends pay an annual membership that helps support exhibitions, acquisitions, conservation, and preservation. Friends also are volunteers and help catalogue and prepare objects for storage.
In addition, the Friends participate in social and educational opportunities related to costume and textiles, such as attendance at exhibition openings, lectures, and programs initiated by the Collection.
Annual Membership
Benefits to members include a twice yearly newsletter and invitations to programs and events. If you wish to become a member of the Friends and/or volunteer in The Historic Costume & Textiles Collection at Ohio State, please contact us at (614) 292-3090 or strege.2@osu.edu.
Student/Senior – $25
Sustaining – $50
Patron – $100
Trendsetter – $250
Designer – $500
Couture – $1,000
Haute Couture -$2,500
Benefactor $5,000