October 30, 1996 – April 11, 1997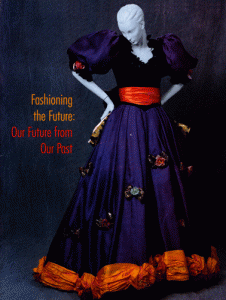 View the exhibition catalog (pdf).
As we sit on the threshold of a new millennium, it seems only natural to reflect on the past and contemplate the future. Contemplation of the future of any endeavor requires that we put it in proper historical perspective. We can use history to gain an understanding of our present situation and to guide us in deciding our future direction. This exhibition shows how historicism in fashionable dress reveals ways in which we create our future, not simply by incorporating new ideas and technologies, but by building on our past.
In studying the history of clothing, it is obvious that past fashionable elements of clothing resurface as new from time to time. As you study the exhibition, you will see that the revival styles displayed are not strict line by line replication, rather, they are essentially variations of historic clothing with a new twist. Such revivals often are created with an eye to the past, while simultaneously incorporating contemporary influences. The result is a totally new creation. Thus, the creative reinterpretation of historical styles are more an evolution of a design than a direct copy. The new garments reflect changes in society and influences of new technology that affect our lives, and will continue to do so into the next millennium.
This exhibition provides examples of historically revised and revived fashions from the middle 18th century through the 1990's that have received their initial design influence from:
Classical Greece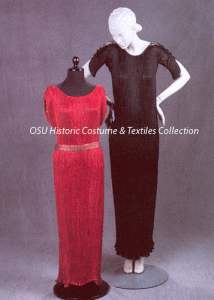 The images of simple draped archaic and classical Greek forms which are found in red-figure painted pottery and sculpture are the foundation for our exploration into Greek and classical style and revival.
Early twentieth century fashions experienced a classical revival, influenced by the artistic reform dress and its philosophy of beauty based on the Greek classical ideal. Fortuny and Doucet are two of the better known designers of the early twentieth century who created classically-inspired fashions and continued the evolution of classical style.
The classically historicized fashions of the late twentieth century fashionable dress are represented in the designs of Halston, Mary McFadden, James Galanos, Issey Miyake and countless others. The silhouettes and design styles of Greek dress are evident in these examples of post modern eclectic historicism.
Gothic/Renaissance Design Elements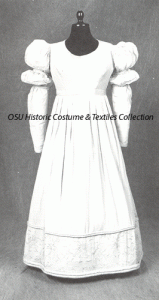 The 14th-16th centuries witnessed the use of several types of elaborate materials and design features. Influences from the Near East as well as the Americas contributed to the sumptuous fabrics and decorative elements of these centuries. Fur and velvet, two extremely sumptuous materials, figured prominently in European fashionable dress at this time.
Neo-gothic and Renaissance revival fashions have resurfaced during both the 19th and 20th centuries in the guise of fur trims, velvet dresses, and various sleeve styles.
The revival of gothic-style clothing constructed of stretch velvets and velours can be found in designer collections for the Fall 1993 fashion season.
Elizabethan Artificiality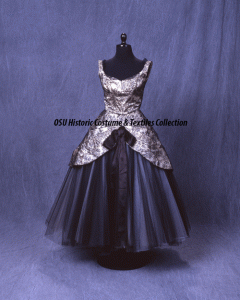 Fashionable clothing styles worn in Western Europe between 1520 and 1620 consisted of stiff and contrived forms alien to the natural shape of the human body. Padded sleeves and hips for both men and women as well as high starched neck ruffs were common. Excessive ornamentation was ubiquitous, giving garments worn at court a look of being decorated with "everything but the kitchen sink."
These stiff and artificial silhouettes were revived during the 18th century and modified in the forms of panniers (extensions to the side of the body) and bustles (extensions to the rear). In the 19th century, corseted bodies and full skirts held out by hooped petticoats and later by bustles continued the fashion. The 20th century also experienced panniers, bustles, and extremely full skirts during the 1910s, 1950s, and 1980s, as well as excessive and whimsical ornamentation.