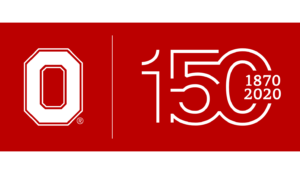 This fall (2019) The Ohio State University begins celebrating its 150th anniversary and we are doing our part with an exhibition that takes a look at what people were wearing on college campuses for the past 150 years. We will feature what people wore to class, what they wore in the dorms (today sometimes those garments are the same but that was not true in the past), what was worn to football games or other activities, and what clothing was worn for special occasions related to college life such as formals or joining honors societies, fraternities or sororities.
If you have any clothing worn during your college years, or if you were in Human Ecology or Home Economics programs and made clothing for class projects, we would like to know about it for potential inclusion in the exhibition. Of course we would also be interested in the stories that accompany these items of clothing and give us a glimpse into the lives of past students.
Please contact curator, Gayle Strege at 614-292-0664 or strege.2@osu.edu with any information. We can accept potential loans up till June 30, 2019.