During building renovation, the Historic Costume & Textiles Collection partnered with the Decorative Arts Center of Ohio in Lancaster to showcase two related exhibits featuring selections from the HCTC on display in the galleries of DACO from February 4 through April 23, 2023. A digital version of the exhibition was created by DACO with Matterport to give the Flower Power exhibition life beyond its three month run. Click on the link above to virtually visit and explore the galleries.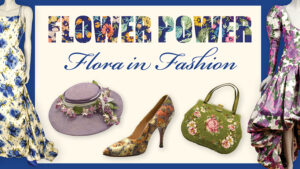 Flower Power: Flora in Fashion explores the relationship humankind has with its natural environment – specifically, how we adorn our bodies with botanical elements from head to toe. From extravagant hats to sublime shoes, fashion designers have found inspiration in colorful floral motifs and botanical elements. Nature's plant materials not only factor in the aesthetics of fashion and apparel, however, they literally are the very fabric used to make much of our clothing. Flower Power will grow your appreciation for how the bark, leaves, grasses and seeds around us have been turned into textiles and clothing we use on a daily basis.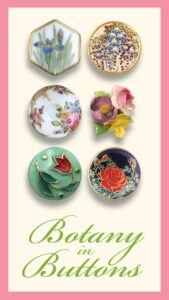 Botany in Buttons features selections from of Ann W. Rudolph's button collection that depict a variety of flowers rendered in various media. These are truly works of art in miniature and are a wonderful complement to the clothing on exhibit.