January 10 – April 11, 1998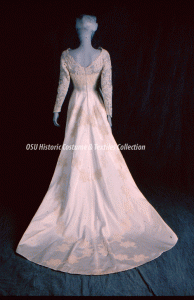 All around the world, we can find people celebrating the passages from one stage of life to the next with some type of formal ceremony. These ceremonies, such as births, weddings, and funerals, usually incorporate special foods, rituals, and clothing specific to the occasion celebrated.
"Wedding Traditions" is an exhibition that explores the specific types of garments worn in marriage ceremonies, including an historical examination of the traditional white wedding dress worn in American and European weddings, as well as an overview of the garments and surrounding traditions of several cultures represented in the Historic Costume & Textiles Collection.
Many people regard a cultural tradition as a practice inherited from the past that is relatively unchanged and unchanging from generation to generation. However, a tour through this exhibition will demonstrate that the cultural traditions surrounding wedding dress are not static and unchanging. These traditions gradually evolve over time, as they are reinvented by the people who use them.
The Traditional White Wedding Dress
Traditional wedding dresses as we think of them today in America consist of a full-skirted white satin gown with high neck and sleeves of lace, and a veil headdress, both trimmed with lace and pearls. It is natural to assume that this style has been around for centuries and worn by everyone, since it is the traditional style. However, the style is reminiscent of what was worn only 150 years ago in the mid nineteenth century.
This tradition, like many others, is not static and unchanging, or really very old. The styles and colors of wedding dresses have varied according to the fashions of the time, and the circumstances of the wedding.
Early Victorian, 1837-1867
Prior to the reign of Queen Victoria (1837-1901), women's wedding dresses traditionally followed the fashionable silhouettes and colors, including white, of their day. The white of choice for most brides was not a pure white, however, rather a cream or ivory color which was more flattering to the complexion.
Queen Victoria's marriage in February 1840 is often cited as the marker which began our white wedding dress tradition. Her choice of a plain white satin dress and orange blossom wreath headdress with lace veil was shockingly plain by royal standards and a significant departure from the royal tradition of a dress embroidered with silver and encrusted with jewels, a jeweled crown, and velvet robes trimmed with fur.
The Queen's daughter, Princess Alice, and the Princess of Wales were also married in white dresses with orange blossom wreath headdresses in 1858 and 1863 respectively, continuing the precedent set by Victoria. Royal weddings have always influenced the wedding ceremonies of non-royal brides and grooms, the brides often imitating the dress of princesses.
Late Victorian, 1868-1901
Weddings were celebrated during the morning hours until changes in church law in 1886 allowed afternoon weddings. In keeping with Victorian society's modest propriety for daytime dress, necklines were high and sleeves long. Wedding dresses of many socially prominent brides were altered for evening attire, or a second bodice was made for evening-one with a lower neckline and no sleeves.
In 1861, Minister's Gazette of Fashion addressed men's dress etiquette for weddings. The proper ensemble included a frock coat of blue, claret, or mulberry, a waistcoat of white, and trousers of pale drab or lavender doeskin. Black was considered a color inconsistent with the occasion.
Wedding dress styles generally followed the current fashionable daytime styles and were worn with either a bonnet or veil. It was not until the end of the 1860s, however, that veils were worn over the face.
Dresses could be white or colored. Socially prominent brides wore white, while those of the working or artisan classes wore a new 'best' dress which was usually a more practical color than white, and worn for more than one occasion. When in mourning, brides could wear a black, gray, or lavender color dress.
According to Mary Elizabeth Sherwood in The American Code of Manners of 1884, "young ladies who marry widowers often dress in colored silks, and with a bonnet, or not, as they please."
At afternoon weddings, many brides chose to get married in their going-away dresses, which were often practical traveling suits.
By the end of the 19th century, men had become less colorful in their fashionable as well as wedding attire. During the 1880s, a morning coat or cutaway of dark blue or black was worn with gray trousers and tie and a white waistcoat. The frock coat returned in the 1890s, but only in black. These garments may reflect the time of day the wedding occurred. The morning coat was considered formal morning-time attire, while the frock coat was considered a formal style of men's dress for the afternoon. Tailcoats were only for evening wear, and therefore not appropriate for weddings, while the tuxedo was not established as a form of men's wear until the late 1880s, and then, only for informal occasions.
The new lounge or 'sack' suit was considered casual attire for gentlemen of upper classes, however, it was considered best dress for rural classes and laborers and worn by grooms for weddings of that socio-economic level.
Early 20th Century, 1901-1935
After the turn of the century, the white wedding dress tradition was firmly established, and further embellished by the Edwardians with an abundance of lace and pearls. Wedding dress styles of the early twentieth century continued to follow fashionable dress silhouettes, including the short flapper dress popular in the 1920s, and the bias cut fashions of the early 1930s. The romantic and historical epics of the cinema, featuring glamorous evening and exotic historical styles also influenced wedding dress designs. In addition to the fashionable bias cut gowns, medieval and victorian styles were also available.
Around the turn of the century, proper gentlemen's wedding attire consisted of a frock coat, striped trousers, and a light waistcoat. The morning coat or cutaway regained popularity by 1910, and was in widespread use after WWI. Working men wore a dark suit, which eventually gave way in the 1930s to a formal suit, or tuxedo, often rented for the occasion.
Mid 20th Century, 1936-1965
The pure white wedding dress was firmly established by late 1930s, replacing the ivories and creams that had passed for white over the previous fifty years. White wedding dresses from this point on were generally not meant to be worn for any other occasion; they were specifically made for the wedding ceremony.
Fashionable silhouettes as well as historically revived styles were popular, interrupted briefly by the war which had an affect on wedding dress styles. Brides, often out of necessity and sometimes out of patriotism wore practical suits or short day dresses during the wartime years. Wedding ceremonies often depended on when the groom could get a furlough or leave, and these were often scheduled on very short notice.
Although there were shortages of some materials shortly after the war, there was an abundance of parachute materials, either through army surplus or as the result of wartime souvenirs. The two examples in this exhibition include a dress made from a German silk
Lt. Matt Luoma sent his wife Lillian a nylon parachute from France during WWII. In April 1945, Lillian entered the Fifth National Sewing contest sponsored by the Cleveland Press, and won first prize in the Victory Group for this negligee and gown made for a belated honeymoon. The design incorporates the original parachute seaming in the skirt of the negligee.
Betty Green's wedding dress made from a silk parachute brought back from Germany by her husband, Edwin Morgan Jr., at the end of WWII. Made for $18.00 by John Parva, a tailor from Warren, OH. The manufacturer's label with Luftwaffe insignia is still visible in the train of the dress, 1946.
Late 20th Century, 1966-1998
Historically revived wedding fashions were popular at the end of the twentieth century, interrupted by a period of diminished ritual and formality in the 1970s. The majority of historic styles were based on Victorian or Edwardian fashions of the late 19th or early 20th century. The predominant historical styles of the late 1960s were those with high waists, reminiscent of Regency or Empire fashions of the early 19th century.
Non-traditional styles flourished during the anti-establishment 1970s. All forms of ritual and formality were greatly diminished, giving way to weddings customized by the bride and groom. Outdoor settings replaced formal churches, garlands of daisies replaced veils, and the bride and groom wrote their own vows. Structured dresses of lace and tulle were replaced by loose and simple, back-to-nature peasant smocks and hooded caftans.
During the 1970s, men's wedding attire was once again colorful and less staid. Traditionally feminine fabrics and details such as velvets and ruffles were used to trim tuxedos and shirts.
Men's wedding dress in the late 20th century has also run the historical range. It is possible to rent a wide variety of formal wear, from traditional morning coats and frock coats with top hats to the now customary tuxedo.
Lady Diana Spencer's wedding to Prince Charles in 1982 brought a rebirth of fantasy to wedding ceremonies. The real-life princess wore a Victorian style dress befitting a fairy-tale princess. The large-sleeved, fitted bodice, full-skirted silhouettes of Victorian revival style gowns are the epitome of the traditional white wedding dress.
Cultural Wedding Traditions
Weddings are a universal rite of passage, a process which requires one to separate from the old, pass from the old to the new, and finally, become a part of the new. The rituals and traditions for this process vary from country to country. Some cultures' wedding ceremonies take place over a period of several days and involve several changes of clothing. The changes of clothing often represent the change in social status of the bride or groom. Sometimes the clothing changes reveal traditions and practices adapted from other cultures via trade, migration, or colonization.
Western fashion has influenced the style of dress of many non-western cultures, in some areas replacing the traditional dress entirely. Wedding celebrations are sometimes the only places where a semblance of a culture's traditional dress survives. Several countries incorporated the white wedding gown into their wedding traditions during the early and mid twentieth century. One can find a synthesis of western fashion and traditional dress in wedding attire, either through the style of dress, type of fabric, or style of accessories.
Although the white wedding dress tradition of Western culture can be found among the wedding traditions of several places where Europeans and Americans had influence, there has been a rebirth in cultural identity and a resurgence of interest in traditional wedding dress. Contemporary versions of traditional wedding clothes are often in great demand, and worn in addition to or instead of the white wedding dress.
In several Asian countries, wedding ceremonies share a common Confucian tradition, and common traditions regarding color. Many traditional wedding costumes incorporate the color red, since it is an auspicious and happy color. White, on the other hand, is the traditional color of death and mourning. In the past, Japanese brides would wear a white kimono on the first day of the marriage ceremony to symbolize their separation or "death" from their birth family.
In both Korea and Japan, weddings have become a prosperous business with a steady clientele. Both cultures view marriage as a necessity to enter into adult society. The marriage ceremony changes reckless youths into responsible adults.
Traditional Korean bridal dress is based on the costume of royal princesses. The red skirt and yellow jacket are worn over full pantaloons and a long slip, and under a red robe with wide rainbow stripe sleeves. The headdress consists of a beaded crown with a dragon head pin in lacquered hair.
The groom wears a royal blue robe of a style worn by officials in dynastic times, with a stiff black hat associated with scholar's or officials. A western style shirt and tie are worn under the robe.
Traditional Korean weddings and wedding dress fell out of favor during Korea's rapid industrial growth and emergence onto the world marketplace in the 1970s and 1980s. In their place was a modern, new style wedding with Korean vernacular language, and western style dress. Many ceremonies today feature both traditional and modern forms of dress.
Prior to WWII, Japanese wedding dress for an ordinary bride was a long-sleeved and predominantly black kimono. It wasn't until the 1960s that the elaborately decorated white uchikake became a regular feature in the average wedding ceremony, worn with a simple white kimono underneath. This resulted in a second change of dress for the bride. In the 1970s, a western style evening gown was added to the process, making three changes of clothing. The economic boom and emergence of Japan onto the global market during the 1980s, brought an additional change of bridal dress, the western style white wedding gown.
The wedding costume of rural agricultural areas does not usually display an abundance of fine silks and other rich materials, however, that is not to say that these costumes are devoid of decoration. In fact, the wedding dress in several Middle Eastern and Eastern European cultures was highly elaborate, and regarded as a means of displaying the bride's dowry. The traditional bride's dress consisted of several layers embroidered and decorated by the bride, and often trimmed with coins or accessorized with an abundance of metal and jewelry.
Many traditional forms of wedding apparel fell out of use in the 1930s, in favor of more modern forms of dress. They often ended up in shops and were bought by tourists. Many of the surviving traditional "folk" wedding dresses are made up of pieces of costumes from several different regions, sometimes put together by a dealer trying to create a complete ensemble. In many countries, a recently renewed interest in the national identity has created a resurgence in the popularity of traditional wedding costume.
In an interest to re-affirm their cultural heritage, many Africa-Americans incorporate aspects from Western African cultures into their wedding traditions. This often includes items of dress, and can feature authentic garments and accessories from a West African country, garments or accessories based on traditional African dress, or accents to western style garments made from traditional West African textiles such as kente or asooke cloth.
This exhibition is made possible through the Lena Bailey Endowment for the Historic Costume & Textiles Collection, and with the help of the following:
Don Callander and Callander Cleaners
Jeanie Zofkie and Lazarus Bridal Salon, for contributions of wedding veils, petticoats, and bouquets.
The Honda Family Center and Etsuko Ichijo, Takako Shibata, and Mariko Hyuga for helping dress our Japanese wedding kimono.
All the donors and lenders to the exhibition.
The Department of Consumer Sciences, and the College of Human Ecology.
Exhibition preparators: Harriet McBride, Amanda Thompson, Amy Stapleton, Peter Aguirre, Dilia Lopez-Gydosh, Susan Hannel, Jaeil Lee, Erica Tiedemann, and Patricia Cunningham