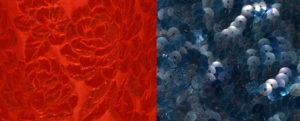 September 1, – December 10, 2016
Red and blue are the colors of our states during election season, so we've decided to explore those colors in our fall exhibition, Red or Blue? Join us this election season as we delve into the cultural meanings and psychology of the colors of the season, and view some of our best examples of red and blue gowns, suits and dresses from various decades of the twentieth century.
The Historic Costume & Textiles Collection is featuring some of its best examples of red and blue in its latest exhibition. These colors first were used in television election coverage in 1976, although at that time, neither color was 'assigned' to one political party. In addition to political affiliations, cultural meanings of red and blue also have shifted over time, having different meanings in the past than they do today. We will look into these meanings as well as the natural dye sources for these colors. Approximately thirty garments will be on display in the upper Gladys Keller Snowden gallery in Campbell Hall, including designer evening gowns, daywear and suits. Related materials will be in the lower gallery.
View images from the exhibition