Now available as a digital exhibition!
And The Bride Wore… had two installations, one during Fall semester 2014, and the second in Spring semester 2015 to maximize the number of dresses to display in the upper gallery space.
View exhibition installation images 
Explore digital exhibit on Fashion2Fiber
The exhibition was organized around several themes, instead of being a strict timeline of wedding gown fashions, and featured dresses from the 1880s through the end of the 20th century and into the 21st. All have interesting stories which accompany them. The themes include, "Something Old" and "Something New" which are pretty self-explanatory, "Something Borrowed"—a dress borrowed or re-cycled from a previous bride, "Something Blue"—a non-white wedding gown, "Generations"—more than one generation of brides in a family, "War Brides"—dresses worn around various war times, and "Local Interest"—dresses with stories and connections local to Columbus and Ohio. Each installation will feature 15-16 gowns and all thematic areas.
Henriette Seroi's story was featured in a Columbus Bride blogpost. Click here to read more.
The gowns featured in the exhibition, as well as other wedding gowns in the museum's collections, can be viewed online on our website Fashion2Fiber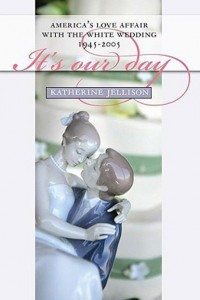 Dr. Katherine Jellison joined us for a talk about her book,  It's Our Day: America's Love Affair with the White Wedding 1945–2005 and the research related to it on February 25, 2015, as a public program related to the exhibition.
Please contact us if you have questions about our exhibitions and programs