April 14 – December 16, 2000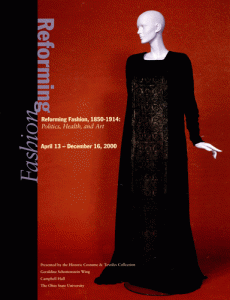 View the exhibition catalog (pdf).
View images from this exhibition.
"Strive as you will to elevate woman, nevertheless the disabilities and degradation of her dress, together with that large group of false views of the uses of her being and of her relations to man, symbolized and perpetuated by her dress, will make your striving vain."
-Gerritt Smith
Reforming Fashion, 1850-1914 is about the women's dress reform movement of the late 19th and early 20th century. Fashionable dress in the 19th century went through several silhouette changes from tubular to hourglass and back to tubular. The fashion of the dress silhouette was not dependent on the natural human body but rather on a range of undergarments including chemise, petticoats, hoops, bustles, and corsets to create an artificial shape. A growing number of people including feminists, health advocates, physicians, artists, and educators began to believe that women's clothing, particularly fashionable dress, was harmful to women's health.