October 28, 2010 – May 21, 2011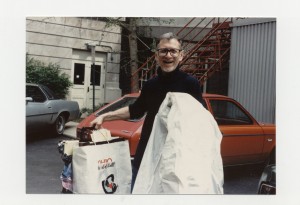 The Ohio State University's Historic Costume & Textiles Collection presented a tribute exhibition honoring Charles Kleibacker and his contributions to the Collection and the University while he was Designer-in-Residence and Curator from 1984-1995. The exhibition ran October 28, 2010 through May 21, 2011 and featured thirteen Kleibacker ensembles that either Charles or some of his clients donated to the Collection. These dresses represent a microcosm of Charles' professional life, showcasing his dedication to quality, engineering, construction details and educating students.
In addition to the garments, images of some of the many remarkable pieces owned by the Collection and acquired by Charles during his tenure at OSU were shown. Among these are some of the most important designer and period fashions and textiles in the Collection including gowns by Charles Frederick Worth, Paul Poiret, Madeleine Vionnet, and Coco Chanel.
Additional video components in the exhibition featured a documentary of Charles' life created by Jeff Simms of the Columbus Museum of Art and a compilation of images from the files of the Collection of Charles "in action" on the various exhibitions, fund-raisers and Friends events he initiated.
A recap of the exhibition opening preview can be found here.
Gayle Strege
Curator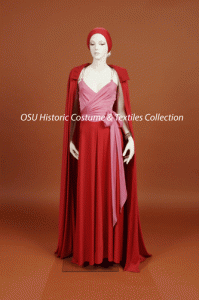 Kleibacker red qiana jersey cape and skirt with pink silk jersey wrap top c. 1971