January 21 – June 12, 2010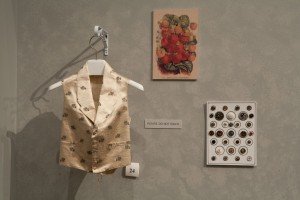 View images from this exhibition.
For over two and a half years, volunteers from the Buckeye State Button Society (BSBS) have been working steadily to sort through Ann W. Rudolph's extensive button collection, which was bequeathed to the Historic Costume & Textiles Collection in 1991.
Organizing the collection was a painstakingly slow process until Marilyn Regrut, then president of the BSBS, first contacted the HCTC in 2006. A year later, an intensive operation to sort through Mrs. Rudolph's buttons and get them organized, stored, catalogued, and photographed began.
Happily, the collection is now organized and properly stored, with the cataloging and photography currently being worked on. As a thank you for all their countless hours of volunteerism, we at the HCTC decided our next exhibition in the upper level Gladys Keller Snowden gallery would coordinate with the BSBS Spring meeting theme of "Flora in Fashion."
In addition to botanically themed buttons, the exhibition will include the floral aesthetic in clothing and accessories, including 19th and 20th century period fashion with their original buttons, hats, gloves, handbags, and shoes. A section featuring prints from the Chadwick Arboretum Emanuel Rudolph Collection of Botanical Illustrations will accompany some of the botanically inspired buttons.
In the lower gallery, we will look at botanically inspired fashion from another angle. Many clothing and textile artifacts are made from plant fibers, including the more familiar cotton and linen. However, there are many more plant species represented in the realm of clothing — some of which may not be that familiar — such as piña (pineapple fiber), bark cloth, and raffia. Plant fibers are also processed to produce rayon and acetate as well as the more recent Tencel and bamboo. Textile artifacts made from these fibers will be showcased in the lower gallery.