October 8, 1999 – March 18, 2000
Textiles, with their many uses, are intimate aspects of our lives. During every moment of the day, we touch and view textiles that have been produced for our comfort and pleasure.
In their two-dimensional form, textiles serve many purposes, from wall hangings to floor coverings. Once textiles are draped around a body or shaped to adorn furniture, they are transformed, taking on a third dimension.
"Textiles Treasures: Selections from the OSU Historic Costume & Textiles Collection" was a past exhibition at Ohio State's College of Human Ecology, 1787 Neil Ave., Geraldine Schottenstein Wing, that examined the relationship of textiles to their use as apparel and interior furnishings. It featured a gallery of rich and rare textiles from different time periods and from around the world.
The display offered classic examples of two-dimensional textiles draped or wrapped around the body to become three-dimensional garments.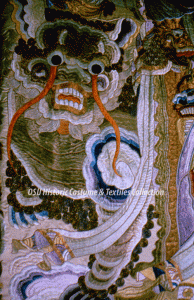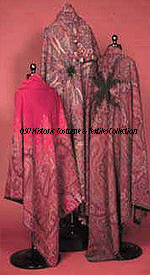 Three full-length 19th century paisley shawls dominate the center of the display. These brightly colored wool wraps, many the size of bed coverlets, were the height of fashion in the 1850s' worn around women' shoulders with the bottom draped over their huge hoop skirts.
The selection of saris from India on display are, as with the paisley shawls, two dimensional textiles that, once wrapped or draped in an intricate manner, take on an entirely new dimension.
The exhibit also included three textiles from Indonesia. Although the society from which these hip or shoulder wraps came is considered primitive by Western culture, each textile is actual highly complex in that the earth tome designs were woven into the fabric, not printed. A sophisticated technique was used to dye the yarn in preparation for creating these designs. The man's warp from East Timor, called a selimut, is a classic example.
Another display examined the effect of a decorative technique-stenciling used on both a garment and an interior furnishing.
The wall is swathed in a set of gold stenciled cotton Fortuny draperies, while before them stands a black silk velvet Fortuny dress, also stenciled in gold.
A yellow silk wall hanging, another interiors furnishing, was created by Maria Monaci Gallenga, mentor of the Italian Futurists. The piece is an example of Gallenga's unique technique for stenciling on velvet using a wheel-like wooden machine. The yellow silk, with matching panels, was installed in a room of the Italian Pavilion at the influential 1925 Exposition International des Arts Decoratif et Industrials in Paris.
Mme Gallenga won the Grand Prix Classe XIII for her stenciled textiles at this exhibition, a fact whose importance is fully understood when on realized that Fortuny was the dominant textile design house of the period, yet Gallenga received the honor of outfitting the pavilion.
Multiple items in the exhibition displayed the effect of embroidery on garments versus interior furnishings.
Samplers, used to teach and record needlework stitches, also serve as decorative displays and keepsakes once completed. The exhibition featured four samplers, including a Dutch darning sampler from 1742, The Dutch are believed to have originated the darning sampler.
An elegant 18th century man's coat with tails and a 19th century woman's Chinese wedding robe show two different applications of decorative embroidery on apparel. The black and green striped velvet coat, originally made in Europe, would have been shipped to China for addition of floral embroidery to demonstrate its wearer's sophisticated possession of the exotic. The Chinese wedding robe, produced for a special occasion in China, is embellished with traditional wedding motifs meant to bring happiness and good fortune to the wearer.
The south wall of the gallery featured several interiors hanging and furnishings. Prominent among them was an English crewelwork bed curtain from Littlecot Manor dated 1680. The Tree of Life motif on the curtain, worked in rich greens and browns with red accents, is a familiar patterns that the English adopted from India.
The Collection's oldest textile, a deep red silk velvet with metallic embroidery from the 15th century, was displayed under glass. The fabric structure and design of this piece exemplify textiles produced for the Spanish market between 1450 and 1500. The gold pomegranate motif with artichokes and flowers enclosed in spiral forms is typical of the Hispano-Moresque design of the period. This textile was probably one an ecclesiastical furnishing or church vestment, as its red color was favored by the Spanish clergy and the four lines of horizontal stitching on this fragment suggest the shape of a cross was previously applied.