April 8 – September 4, 1999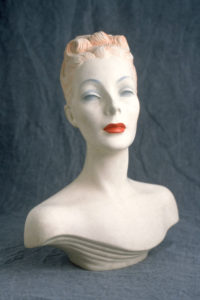 Every shopkeeper and merchant's primary objective is to sell merchandise. When the giant nineteenth century dry goods establishments like Marshall Field & Co. shifted their business from wholesale to retail the visual display of goods became necessary to attract the retail customer. The store windows no longer simply allowed natural light to shine in the building or act as storage space for stock,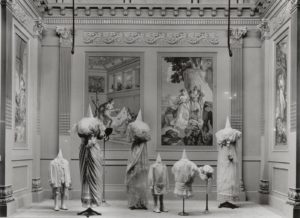 they became important venues to attractively display the store's merchandise. Gradually, the design aesthetic used in window displays moved indoors and became part of the overall interior store design, eventually displacing the importance windows altogether in suburban malls.
"Looking at the store windows is great entertainment because you can see all of these things and be really glad it's not in your home filling up your closets and drawers."
– Andy Warhol
Museums and department stores in America have a shared history of displaying their products, both having come of age in the last quarter of the nineteenth century. Like world's fairs, department stores and museums crowded everything together on shelves or in display cases. Today displays in museums are referred to as exhibitions, while displays in stores are referred to as visual merchandising. Essentially, visual merchandising is the selling of a store's goods through visual means, incorporating advertising, window displays, and interior sales floor design and display. Throughout the twentieth century, well-known artists such as Salvador Dali and Andy Warhol created window displays, while other artists who are lesser known were commissioned to design unique objects specifically for visual merchandising purposes. The "Art of Selling, is a historical exploration of these display practices, including a look at several window display artists, interior display methods, and some of the unique art created for visual displays, especially the mannequin.