October 26, 2006 – May 19, 2007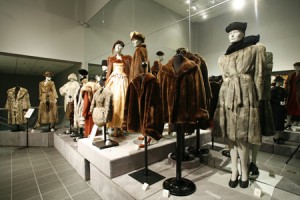 View images from this exhibition.
Feathers, Leathers, and Fur: A Fashion History was an exhibition in the Geraldine Schottenstein Wing for the Historic Costume & Textiles Collection at The Ohio State University that explored the historical use of fur, along with non-fur skins and feathers, as clothing items and adornment. Human cultures in all corners of the globe have looked to nature for inspiration in ornamenting the body and have often borrowed the more decorative outer coverings of many of nature's creatures. The more unusual, fine, and rare of these items often reached the level of luxury status within a society.